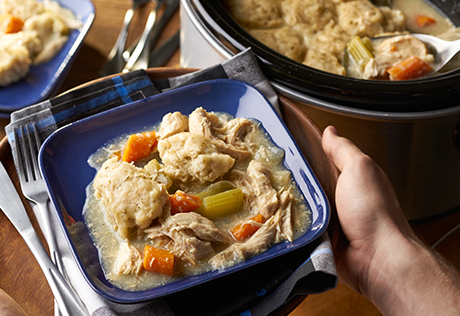 When I was a kid and well into my first couple of years in high school, I used to go to my Grandmother's and spend the weekend with her. She would call me and ask me what I wanted to eat for the weekend and I would always tell her, "Chicken and Dumplings, cheeseburger pie, and cinnamon cresent rolls." Of course, she had her own recipes for these. I never learned to make the cheeseburger pie from her, but I did learn how to make the chicken and dumplings which was quite simple. All we did was boil the chicken and follow the directions on the Bisquick box. We never did anything fancy b/c we liked it just the way it was!
Slow Cooker Chicken & Herb DumplingsServings: about 1 3/4 cups each
Cook: 7 hr. 45 min.
Serves: 8
2 1/2

pounds lb.

skinless, boneless chicken breasts

and/or thighs, cut into 1-inch pieces
5

medium

carrots

, peeled and cut into 1-inch pieces (about 2 1/2 cups)
4

stalks

celery

, cut into 1-inch pieces (about 2 cups)
2

cups

frozen whole kernel corn
3 1/2

cups

Swanson® Chicken Broth

or

Swanson® Chicken Stock
1/4

teaspoon

ground black pepper
1/4

cup

all-purpose flour
1/2

cup

water
2

cups

biscuit baking mix
2/3

cup

milk
1

tablespoon chopped

fresh rosemary leaves

or 1 teaspoon dried rosemary leaves, crushed
How to Make It
Stir the chicken, carrots, celery, corn, broth and black pepper in a 6-quart slow cooker.
Cover and cook on LOW for 7 to 8 hours or until the chicken is cooked through.
Stir the flour and water in a small bowl until the mixture is smooth. Stir the flour mixture in the cooker. Increase the heat to HIGH. Cover and cook for 5 minutes or until the mixture boils and thickens.
Stir the baking mix, milk and rosemary in a medium bowl. Drop the batter by rounded tablespoonfuls over the chicken mixture. Tilt the lid to vent and cook on HIGH for 40 minutes or until the dumplings are cooked in the center.